Happy New Year—Welcome 2017!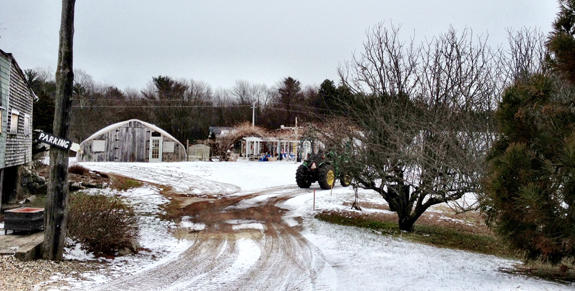 Welcome to Pettengill Farm, we want to share with you our warmest New Year's Greetings. We are so grateful to you for supporting us over the years. We have spent the last few weeks planning and ordering our plant material for this new year of 2017. You constantly inspire us to introduce new plants and hold more educational classes and workshops. We take your comments and suggestions seriously and always enjoy feedback.

We have just finished up with our FIRST Holiday Marketplace. We had a lot of fun holding this event and judging by your kind comments you enjoyed it too. Thank you for making this Marketplace experience a successful event!

As you slide into 2017, we hope you will take the opportunity to dream and plan out your gardens for this New Year ahead. We will be ready to warmly greet you and help you carry out your plans when our greenhouses open in mid-April. Please keep checking in with us, for exciting new events and plant material we will be offering you this new year to help your gardens be the best they can be.

__________________________________________________________________

~HELP WANTED~
We are seeking both full and part-time seasonal help for a nursery, growing and selling perennials, annuals and shrubs in Salisbury, MA.
Qualifications must include: physical ability and energy to move and lift things, working in a team setting, a passion and knowledge in horticulture.


We are looking for help in our Garden Maintenance division called 'Petal Pushers'. This individual must be strong, energetic, self-motivated who are willing to work passionately with our petal pusher maintenance staff installing and maintaining our beloved clients properties, including perennial beds and small shrub care from April thru November.
Gardening experience preferred.
If interested in either one of these positions, please send your qualifications to pettengill1792@gmail.com.
We are looking forward to seeing you in Mid-April!

Warm Regards,
Jan and Henry Richenburg
and our dedicated farm crew
_________________________________________________________________
A gift for any season or special suprise!
For that hard to buy for friend or family member!
Please call us at 978.462.3675 or email us at info@pettengillfarm.com, providing us your Name and contact infomation as well as with the Name and Address of the special person you would like the gift certificate sent to and we would be happy to help you suprise them with this special gift!