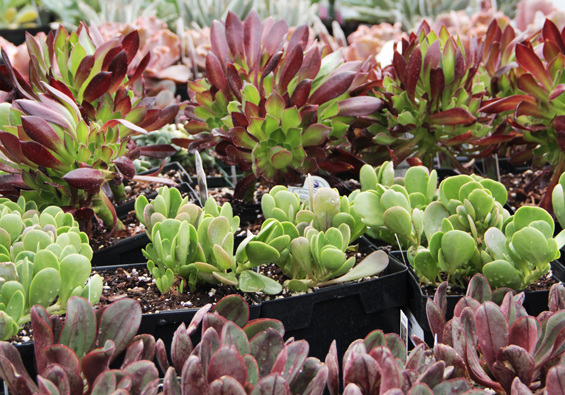 He who is born with a silver spoon in his mouth is generally considered a fortunate person, but his good fortune is small compared to that of the happy mortal who enters this world with a passion for flowers in his soul.
~Celia Thaxter 1835-1894~
Spring is in the Air!!!

Look who has begun their arrival to our greenhouses!!! Yes, with each passing day, comes another seed being planted, another sprout coming through the soil. There is no dening our favorite variety of plants are succulents. With the largest selection of succulent varieties in New England—both Annuals and Perennials— there is something for everyone to get excited about! Most importantly though, it's a sign that Spring and Opening Day are on their way!

We are so excited to share with you what we have going on for our 2016 season here at Pettingill Farm, not to mention our new and unusual plant material. So please be sure to check out our Classes and Events pages and get ready to mark your calendars for our 2016 Offerings:
• Free Workshops
• Classes
• Horticultural Bus Tours
• The Vintage Bazaar
• Order up a Garden
• Custom Designed Containers
• petal pushers
Looking forward to seeing you all in this 2016 season!
Warmly,
Jan and Henry Richenburg
Justin and Liana Richenburg Webb
And the Pettengill Farm Staff
__________________________________________________________________
A gift for any season or special suprise!
For that hard to buy for friend or family member!
Please call us at 978.462.3675 or email us at info@pettengillfarm.com, providing us your Name and contact infomation as well as with the Name and Address of the special person you would like the gift certificate sent to and we would be happy to help you suprise them with this special gift!