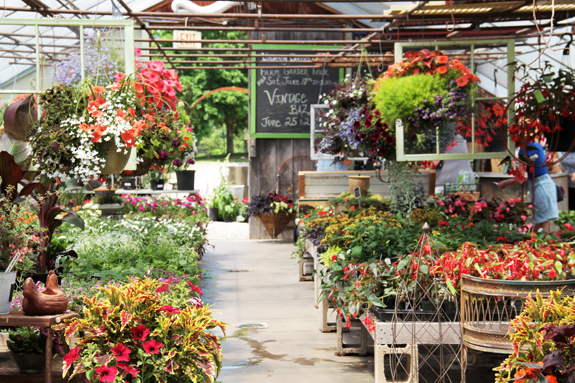 He who is born with a silver spoon in his mouth is generally considered a fortunate person, but his good fortune is small compared to that of the happy mortal who enters this world with a passion for flowers in his soul.
~Celia Thaxter 1835-1894~
A Summer Welcome to you ALL!
As farmers a main topic among us every day is the weather. We certainly had our fill of strange weather during the month of May. Finally, as we warm up, our plants can play catch up and display the kaleidoscope of vivid colors that we so look forward to every year.

We still have a wonderful array of unique and rare plants for you to choose from. Also, our many display gardens give you the opportunity to see many of these plants at their most brilliant, vibrant best. As you probably know, we are addicted to flowers and plants. Nothing excites us more than sharing and exchanging information with a group of enthusiastic gardeners. One of the ways we like to show our appreciation for your patronage is our "Free Guided Strolls" through our many gardens. Our "Stroll" this year will be held on Saturday, June 18, from 10–11:30. This is the prime blooming time for perennials so your eyes will behold many treasures. Your escorted "Stroll" will also cover history and interesting stories of the farm.

We also have two other free workshops scheduled : July 9, from 9:30—11:30 is Shade Garden Fundamentals and August 6, from 9:30–11:30 is a Birds and Butterflies workshop which will cover the correct plants to use in your garden to attract these beneficial creatures.

Don't forget to check out what else have going on for our 2016 season here at Pettingill Farm, not to mention our new and unusual plant material.
• Classes
• Horticultural Bus Tours
• The Pasture at Pettengill Farm's 2016 Harvest Dates
• The Vintage Bazaar
• Order up a Garden
• Custom Designed Containers
• petal pushers

Stop by and see us and enjoy the charm of our old country farm.
Warmly,
Jan and Henry Richenburg
Justin and Liana Richenburg Webb
and our dedicated farm crew
_________________________________________________________________
A gift for any season or special suprise!
For that hard to buy for friend or family member!
Please call us at 978.462.3675 or email us at info@pettengillfarm.com, providing us your Name and contact infomation as well as with the Name and Address of the special person you would like the gift certificate sent to and we would be happy to help you suprise them with this special gift!