Events for 2018
Opening Day—2018
Friday, April 20 | Greenhouse Opens for 2018 Season—Open Daily, 9am–5pm
Be the first on your block to have front porch color! We have a vibrant array of cool weather annuals to give you a head start in your outdoor plantings.


"It's Showcase Time"
Plant Premiere and Preview of Coming Attractions
Saturday, May 5 | 9:30 am–11:30 am
View our favorite selections from our 2018 inventory of unusual plant material. Close your eyes and imagine fresh, bright annuals, cool refreshing perennials and hot, colorful tropicals. In addition, we will highlight the new trends that are sure to keep Pettengill Farm on the cutting edge of the gardening world.
We will have the following FREE mini classes:
9:30-10:30  Jan will share her favorite annuals for in ground and container plantings
10:30-11:30  Lisa, our perennial manager, will be introducing new perennial plants and advice on growing tips for getting the best performance out of your plants  
This will be held rain or shine in our protected greenhouse. Refreshment served. Admission is FREE!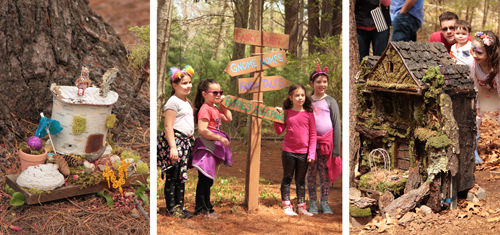 Fairy Gnome Discovery Walk

Saturday & Sunday, April 28 and 29
10 am—3pm | RAIN OR SHINE
Spend two whimsical days here at Salisbury's most beautiful farm,Pettengill Farm.
Walk through lush gardens, an enchanted forest, and the serene marsh; it's an event like no other.

Join us at our fourth annual Fairy Gnome Discovery Walk at Pettengill Farm on Rings Island, Salisbury. The gems of the event are the near 200 Fairy and Gnome Homes peppered throughout a One mile wooded path that leads to the marsh and back. Homes are created by very talented professionals, families, school children, and local businesses. The event will have Tracy Kane reading from her Fairy House series in the woods and offering book signing, live music performances, Newburyport's Theater in the Open, children's crafts, food offerings, and so much more!
For more information, please visit the event's website at: www.FairyGnomeWalk.weebly.com
Or, click HERE to visit their Facebook page.

PETTENGILL FARM AND GROUPS, INC presents
2018 LONGWOOD GARDENS AND MORE— Bus Tour
Thursday, June 21—Sunday, June 24,2018
Pettengill Farm is once again offering its many customers an opportunity to see one of the world's most amazing gardens on this latest tour focusing on Longwood Gardens in Kennett Square, PA. The excitement is—after two plus years of construction—the over 500 gorgeous fountains re-opened in 2016. For those folks who traveled four years ago to Longwood and Brandywine, we have incorporated new venues to visit making this a brand new itinerary that is simply fabulous.
We will begin our journey by departing Pettengill Farm at 8:00 am on Thursday, June 21st, traveling to Kennett Square, PA and our hotel, the Fairfield Inn. Dinner tonight will be at one of the wonderful restaurants in Kennett Square—famous for it's mushroom farming. We hope to have a speaker who can talk about the history of mushrooms in this area. Friday morning, June 22nd, has us visiting the star of the tour Longwood Gardens right in Kennett Square. We will arrive there and won't return to the hotel until after the fountain show which begins at 9:15 pm. You will have a Dining Dollar Card that you can use for your lunch, dinner or cocktails in any of the three restaurants at Longwood. Enjoy the fantastic fountain show—these fountains have been totally reconstructed at the cost of some $50 million and are said to be the best in the world. On Saturday, June 23rd we'll be heading to Monkton, Maryland, a one hour drive, to visit Ladew Topiary Garden. It's fantastic! Wait until you see how they are able to create statues, animals and much more doing incredible work with topiary. Also there are many beautiful gardens that will be perfection late in June. Luncheon will be included at Ladew. But this day isn't finished yet. We'll travel north of Wilmington, DE to the Candlelight Dinner Theatre where we will see a performance of BOEING! BOEING! The evening starts with a delicious buffet which is beautifully presented and very ample. Service is by the actors who are terrific. This is a play guaranteed to give you lots of laughs. Fasten your seat belts for a riotous farce and a perfect way to end this wonderful day. Unfortunately, all good things come to an end, but not this tour! We'll depart the Fairfield Inn and Kennett Square on Sunday, June 24th by 9:00 am, but before we "hit the road", we'll be making a stop at Chanticleer Gardens in Wayne, Pennsylvania. This is a renowned garden, famous for its beauty and interesting plantings. Quite a different stop from the other fabulous gardens you have already visited. Then at Noon we'll start home with a dinner stop, arriving at Pettengill Farm in Salisbury by (hopefully) 8:30 pm. This will be a tour to remember for a long time to come. Thank you for the pleasure of joining Pettengill Farm for this journey.
Deposit: $200.00 Per Person: We will accept bookings right up to date of departure, if there is space available. Early booking is definitely recommended

Cost Per Person: Double $699.00 (2 to a room), Triple $679.00 (3 to a room) and Single $899.00 (1 to a room)

Click HERE to download an APPLICATION for this trip.
Click HERE to download a FULL ITINERARY for this trip.
PETTENGILL FARM AND GROUPS, INC presents
2018 A Floral Extravaganza with a French Flavor— Bus Tour
Thursday, September 6—Sunday, September 9,2018
Ooh la la! Pettengill Farm will be spending four days in exciting Montreal, Quebec in September, 2018—the latest tour focusing on beautiful gardens and horticulture. Montreal, with its totally French flavor, awaits Pettengill Farm customers. If you have already traveled with us you know how wonderful our tours are and if this is the first time, let us show you why we are so popular! Our journey begins with departure from Pettengill Farm in Salisbury at 8:30 am on September 6th, on board a beautiful, deluxe Coach Company motorcoach. We will wend our way north through New Hampshire and into Vermont where we will cross the U.S./ Canadian border into Provence Quebec (make sure you have your valid passport handy). We will make several stops enroute including lunch. Arriving in Montreal we will check in at our hotel for three nights—Courtyard by Marriott which is relatively new and beautiful. After that long journey, dinner sounds like a great idea and we'll head over to the Vieux-Port Steakhouse—a very famous restaurant in Old Montreal—this is a wonderful opportunity to get to know your fellow passengers as well as enjoy some fabulous food. Friday morning is ushered in with a great breakfast and we're off at 9:00 am. Our guide will be with us all day—their job is to make Montreal exciting and informative for your enjoyment. First stop Mt. Royal and St. Joseph Oratory where you will not only see their beautiful gardens but also visit this spectacular church. Hungry? You'll be getting your first opportunity to see the Montreal underground city and the food court for lunch on your own. On to Maison Saint-Gabriel, a 300 year old historic sight complete with Farmhouse and Sharecroppers' Gardens which you will visit. This evening dinner is on your own. Our guide will give you lots of assistance on where to go, what to eat, etc. Montreal is such a cosmopolitan city and from the hotel you are steps away from many restaurants, clubs and shopping. Saturday morning begins with a great breakfast at our hotel. Once again our guide will meet us and be with us throughout the day. First order of the day is our visit to the Montreal Botanical Gardens where we will enjoy a guided tour. Can you imagine this attraction is home to more than 22,000 species of plants!! Lunch on your own at the Cafeteria of the Botanical Garden. Then we will be visiting the Notre-Dame Basilica in Old Montreal which is a must for every visitor to Montreal regardless of your faith or persuasion. Saturday evening will be a super farewell to Montreal event! We travel to St. Lambert, Quebec just a short distance from downtown Montreal for dinner and a performance of the famous Le Festin du Gouverneur which has been performing for over 30 years to people from all over the world. On Sunday morning we'll be saying "goodbye" to Montreal and beginning our journey home. One more super visit! As we travel south on Rt. 91 in Vermont, we'll come to Putney, VT and Hayward Gardens, the absolutely beautiful gardens of Gordon and Mary Hayward. It's the perfect way to finish our Montreal adventure. Another wonderful gardening journey presented by Pettengill Farm.
Deposit: $250.00 Per Person: We will accept bookings up to 15 days prior to date of departure, if there is space available. Early booking is definitely recommended

Cost Per Person: Double $699.00 (2 to a room), Triple $669.00 (3 to a room) and Single $969.00 (1 to a room)

Click HERE to download an APPLICATION for this trip.
Click HERE to download a FULL ITINERARY for this trip.