Events for 2017
Our Events for the Season have concluded, but please feel free to look at what we have to offer here on the farm. Hope to see you in 2018!

Opening Day—2017
Monday, April 17 | Greenhouse Opens for 2017 Season—Open Daily, 9am–5pm


"It's Showcase Time"
Plant Premiere and Preview of Coming Attractions
Saturday, April 29 | 10 am–2 pm
View our favorite selections from our 2017 inventory of unusual plant material. Close your eyes and imagine fresh, bright annuals, cool refreshing perennials and hot, colorful tropical. In addition, we will highlight the new trends that are sure to keep Pettengill Farm on the cutting edge of the gardening world.
We will have the following FREE mini classes:
9:30-10:30  Jan will share her favorite annual selections from our new 2017 plant material.  
10:30-11:30  Lisa, our perennial manager, will be introducing new perennial plants and advice on growing tips for getting the best performance out of your plants
11:30-12:15  "NOT JUST PANSIES" Jan will be introducing and designing a container filled with plant material that can go outside NOW and not be effected by the cool spring nights.  

Be the first on the block to have color on your front porch!

This will be held rain or shine in our protected greenhouse. Refreshment served. Admission is FREE!

Fairy Gnome Discovery Walk

Saturday & Sunday, May 6 and 7
10 am—3pm | RAIN OR SHINE
Spend two whimsical days here at Salisbury's most beautiful farm,Pettengill Farm.
Walk through lush gardens, an enchanted forest, and the serene marsh; it's an event like no other.

Join us at our third annual Fairy Gnome Discovery Walk at Pettengill Farm on Rings Island, Salisbury. The gems of the event are the 100+ Fairy and Gnome Homes peppered throughout a 1 mile wooded path that leads to the marsh and back. Homes are created by very talented professionals, families, school children, and local businesses. The event will have Fairy Tales read in the woods, live music, performances, Newburyport's Theater in the Open, children's crafts, food offerings, and so much more!
For more information, please visit the event's website at: www.FairyGnomeWalk.weebly.com
Or, click HERE to visit their Facebook page.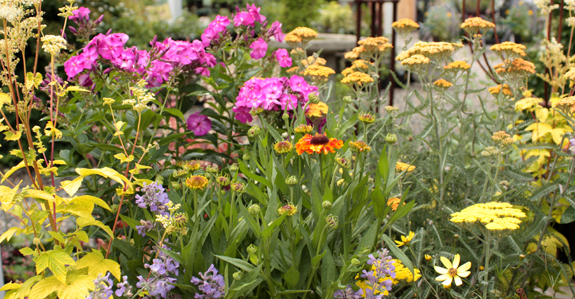 FREE GARDEN WORKSHOPS
Using Colorful Annuals in the Landscape
Saturday, May 27 | 9:30-11:30
So many of us are now choosing to plant colorful annual containers instead of planting in the landscapes. We all love perennials but unfortunately their bloom time is very short lived leaving our gardens looking tired and naked of any color. We are going to introduce different annuals for the landscape that will bloom all season revitalizing your garden space. Most of these plants are new breeds that do not require a lot of maintenance. We hope you will join us.

June is busting out all over!
Saturday, June 17 | 9:30–11:30 am
This is peak time in our display gardens. We will informally tour the gardens, pointing out different plants, and giving garden tips. If you are in need of some inspiration and guidance, we hope you will join us. This is one of the prettiest times to visit the farm.

Shade Garden Fundamentals
Saturday, July 8 | 9:30–11:00 am
Do you have less than six hours of sunlight in your yard? Growing in the shade can be a challenge. Whether under trees, dry, wet, or deep shade, we have some suggestions for you. Come and join us, learn to make your shade area a lovely garden to enjoy for many years.

PETTENGILL FARM AND GROUPS, INC presents
DOWNEAST MAINE GARDENS— Bus Tour
Tuesday, July 18—Friday, July 21,2017
If you are a gardener or a flower fancier looking for a tour that offers wonderful gardens plus sightseeing and fun, then you will want to book a seat on Pettengill Farm's Maine Tour, departing Tuesday, July 18. Every year, Pettengill Farm does two bus tours featuring outstanding gardens. This year, Maine won the vote. We'll begin our tour by visiting The Coastal Maine Botanical Gardens in Boothbay, Maine. It is a very young garden installation, but simply spectacular. From the interesting plant material, to the beautiful manner in which they have been installed. In fact, they are quickly becoming one of the most famous gardens in the USA! We'll overnight at the Boothbay Harbor Inn—what words can even come close to describing the view of this picturesque harbor? Wait, but there's much more waiting for us! The next stop on our journey north will be Bar Harbor. Wow, what a place to visit—we will tour this gorgeous seacoast hemmed in by the amazing Acadia National Park, home to Cadillac Mountain—where you can see for miles around! During this leg of our journey, we are fortunate enought to be able to also tour the Abby Aldrich Rockefeller Garden, the Thuya Garden and the Azalea Garden—all of which are in Northeast Harbor. While we are here, there will be time to shop and enjoy Bar Harbor's many venues as well as savor some delicious cuisine (featuring Lobster of course!). To top off this time, what would be better than a sunset cruise, complete with live music on the schooner, Margaret Todd? Friday, as we head back south, we will conclude our tour with a stop in Portland. Here we will visit the Longfellow Garden, a part of the Maine Historical Society and enjoy Portland's Old Town. We truly hope you will be able to join us on this fantastic tour of the beautiful state of Maine.

Click HERE to download an APPLICATION for this trip.
Click HERE to download a FULL ITINERARY for this trip.