Events for 2016
and FREE Garden Workshops have finished, please stay tuned for our 2017 Events!

Opening Day—2017
Monday, April 17 | Open Daily, 9am–5pm

"It's Showcase Time"
Plant Premiere and Preview of Coming Attractions
Saturday, April 30 | 10 am–2 pm
View our favorite selections from our 2016 Spring Collection of thrilling plant material. Close your eyes and imagine fresh, bright annuals, cool refreshing perennials and hot, colorful tropicals. In addition we will highlight the new trends that are sure to keep Pettengill Farm on the cutting edge of the gardening world.
We will have the following FREE mini classes:
10 – 11 am: Jan will share her favorite new annual selections of plant material. She will also give advice on growing tips and getting the best performance out of your plants.
11 – 12 noon: Lisa, our perennial manager, will be introducing new perennial plants and some growing tips.
12 – 12:35 pm: Diane Flynn will be introducing our unique house plants and covering the topic of soil and drainage which is often the cause of problems in indoor plantings.
This will be held rain or shine in our protected greenhouse. Admission is free!
Fairy Gnome Discovery Walk

Saturday, May 21 | Rain Date, May 22
A whimsical afternoon at Salisbury's most beautiful farm,Pettengill Farm.
Walk through lush gardens, an enchanted forest, and the serene marsh; it's an event like no other.

Join us at our second annual Fairy Gnome Discovery Walk at Pettengill Farm on Rings Island, Salisbury. The gems of the event are the 100+ Fairy and Gnome Homes peppered throughout a 1 mile wooded path that leads to the marsh and back. Homes are created by very talented professionals, families, school children, and local businesses. The event will have Fairy Tales read in the woods, live music, performances, Newburyport's Theater in the Open, children's crafts, food offerings, and so much more!
For more information, please visit the event's website at: www.FairyGnomeWalk.weebly.com
Or, click HERE to visit their Facebook page.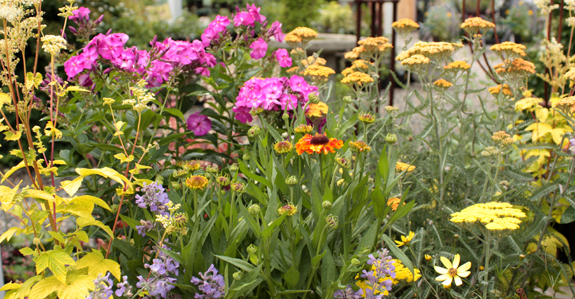 Free Garden Workshop
Saturday, June 18 | 10–11:30 am
June is busting out all over! This is peak time in our display gardens. We will informally tour the gardens, pointing out different plants, and giving garden tips. If you are in need of some inspiration and guidance, we hope you will join us. This is one of the prettiest times to visit the farm.





Shade Garden Fundamentals
Saturday, July 9 | 9:30–11:00 am
Do you have less than 6 hours of sunlight in your yard? Growing in the shade can be a challenge. Whether under trees, dry, wet, or deep shade, we have some suggestions for you. Come and join us, learn to make your shade area a lovely garden to enjoy for many years.




PETTENGILL FARM AND GROUPS, INC presents
A LONG ISLAND—Gardens and Wineries—Bus Tour
Sunday, July 24—Tuesday, July 26
Groups, Inc. is pleased to present this outstanding tour to Long Island, NY, featuring gardens, wineries and gorgeous scenery. Take a peek at this fascinating, action packed itinerary (you'll have to wait until you get home to get any rest!):
Join us as we begin our adventure to Long Island from Pettengill Farm, by heading to New London, CT where we will head to the pier for the Long Island Ferries. We will depart from New London, CT, landing at Orient Point, Long Island, NY, then we head to our hotel for the night—The Sag Harbor Inn right in Sag Harbor, NY. After freshening up in our rooms, we'll be visiting two wineries—one for tasting and touring and the other for tasting and also dinner with pairings. One of the vinyards we will be visiting is Pindar Winery, for a tasting of five of their internationally acclaimed wines. After this feast for the eye and our palettes, we will return to Sag Harbor, where you will be free to explore this wonderful town and it's great shopping as well as the delightful ambiance which our hotel has to offer. Monday, we begin our day with breakfast at the Sag Harbor Inn then we are off on our first adventure of the day—a tour of the Hamptons! Following this historic and scenic tour, our next stop will be at Landcraft Environments, wholesale growers for plants of all kinds—from bulbs and succulents to tropicals—in greenhouses as well as in their extensive gardens that are just begging to be visited. After lunch, we will journey to mid-Long Island where we will visit Old Westbury House and Gardens in Westbury, NY. This is truly one of the East Coast's best takes in terms of gardens and horticultural demonstrations, it's nestled amidst 200 acres of formal gardens, landscaped grounds, woodlands, ponds and lakes. We will spend our evening at the lovely Spring Hill Suites in Bellport, NY. Dinner will be at the Harbor Crab Restaurant in Patchogue, NY., where we will enjoy a delicious buffet served on the deck of a triple decker steamboat (does not move). Breakfast will be bright and early Tuesday, then we are off to Oyster Bay where we will visit Planting Fields Arboretum and State Park—home to the Coe Family. The almost 450 acres of this property was donated to the State of New York and is where we will be treated to lunch and a tour of it's spectacular gardens and greenhouses. Our next featured treat of the day will come after we cross the Frog Hollow Bridge into the Bronx to visit the New York Botanical Gardens and their fabulous exhibition of Impressionism in the Garden. After this amazing day, we will depart the New York City area for home, arriving back in Salisbury at Pettengill Farm sometime mid-evening.

Click HERE to download an APPLICATION for this trip.
Click HERE to download a FULL ITINERARY for this trip.
TOUR IS NOW FULL, PLEASE CALL TO BE PUT ON WAITING LIST


Free Garden Workshop | Birds and Butterflies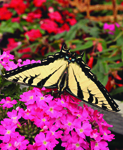 Saturday, August 6 | 9:30–11:30 am
The sights and sounds of birds add so much to the garden. Learn ways to entice birds and butterflies to your home. We will give tips on providing food and shelter for our feathered friends. Shrubs, perennials and annual choices will be discussed. Bring your best bird story!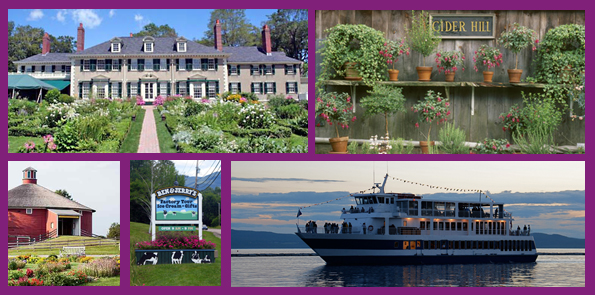 PETTENGILL FARM AND GROUPS, INC presents
A VERMONT ADVENTURE — Bus Tour
Sunday, September 11—Tuesday, Septmeber 13
Groups, Inc. is pleased to present this adventue to the beautiful state of Vermont—in the midst of the fall foliage season! This tour will feature gardens, Augustus Saint Gaudens National Historic Site, food sampling and endless amounts of gorgeous scenery.
The tour begins, as always, at Pettengill Farm in Salisbury, (where you will be able to safely leave your car). We travel on a deluxe motorcoach departing at 8 am heading to Vermont. Traveling northwest through New Hampshire, we'll arrive at our first visit—Augustus Saint Gaudens National Historic Site in Cornish, NH. Touring with a professional docent, we'll see beautiful gardens and trees. But most importantly, we'll enjoy seeing many of the sculptures that made Saint Gaudens world famous. After lunch we'll visit Cider Hill Gardens and Gallery in Windsor, VT. You'll meet Gary and Sarah Milek, two incredibly interesting folks. Gary is an acclaimed artist and he paints the beautiful flowers and gardens that Sarah plants. What a combination! Then we'll head for Waterbury, VT where we'll be staying in the Best Western Plus Waterbury/Stowe Hotel. It's location is fabulous: you will be surrounded by mountains everywhere so scenic vistas abound. Once you are settled, we'll head over to the Morse Maple Farm near Montpelier, the capital of Vermont. You'll be treated to samplings and a tour of how maple syrup is made and what the color of the syrup means. Finally for this incredible day we'll enjoy dinner at the New England Culinary Institute where students will prepare your delicious meal. After a great breakfast on Monday, we'll be heading to Burlington and the Lake Champlain Valley for a visit to Shelburne Museum, truly a thrilling place to tour. Over 150,000 works are exhibited in a remarkable setting of 38 exhibition buildings, 25 of which are historic. And if that's not enough, you also see 30 plus gardens located on the campus. Shelburne is noted for their incredible zinnias. Who doesn't love Ben and Jerry's Ice Cream? You'll be enjoying a visit to their factory plus their cemetery where they bury flavors they no longer make!!. Next we'll visit Burlington, VT, a lovely city perched on the shores of Lake Champlain, with lots of lovely shops and many interesting places to see. At 6 pm we'll depart on the SPIRIT OF ETHAN ALLEN for a delightful two-hour dinner cruise. Another busy but wonderful day in the Green Mountain state. Tuesday has us enjoying one last breakfast at the Best Western Plus Hotel. We'll head south in the Green Mountains stopping in Proctor to visit the Vermont Marble Museum, largest in the world. Then on to Manchester, VT for a visit that will be loved by all —Hildene, the Lincoln family home and gardens. Here you'll enjoy a delicious lunch before touring the grounds under the guidance of expert docents. Then we're homeward bound, after this fantastic tour, we expect to arrive in Salisbury and Pettengill Farm mid-evening.

Click HERE to download an APPLICATION for this trip.
Click HERE to download a FULL ITINERARY for this trip.

PETTENGILL FARM AND GROUPS, INC presents
AN ADVENTURE IN PROVIDENCE, RI— Bus Tour
Sunday, October 16, 2016
Here's a one-day motorcoach tour you won't want to miss! We'll travel to Rhode Island departing Pettengill Farm at 10:00 am. First stop will be The Farmer's Daughter, an amazing garden center and farm in South Kingstown, RI—this place is simply fascinating! It will be autumn and we have asked the owner, Sarah Partyka, if we can stop in and perhaps have a demonstration of fall floral designs. She is thrilled to have us and while there we will also be able to check out their annual Autumn Festival. Hungry? We'll head into Providence and visti the famous Atwells Avenue better known as Little Italy where we will be dining at Pane e Vino Ristorante . . .it's fabulous! You'll be able to select your entree on the reservation form. Time will be allowed for you to look around (that means shopping) there in Little Italy! Then it's off to Roger Williams Park and Zoo . . .a very special area of Providence. We'll be touring the Jack-O-Lantern Spectacular, a nighttime display of 5,000 illuminated jack-o-lanterns all along the beautiful Wetlands Trail with well over 100 of the pumpkins carved into veritable works of art. Some of these pumpkins actually weigh in at over 1000 pounds! At the end of this nighttime walk, there is the dazzling Laughing Tree with its hundreds of illuminated pumpkins and iconic laughing music—It's fabulous! The 2016 theme is American Treasures. You'll see along the trail scenes featuring Humanitarian Heroes, Endangered Species, Science Theater and Backyard Garden. Each participant will receive a flashlight but the path is well lit. We feel sure everyone will truly enjoy this fantastic treat.~Tour is Full~